Well, the good news is that I am still able to read. Maybe it isn't me, maybe instead it is the caliber of book I have been trying to read in the last year. Happily, I found a book that I could not put down.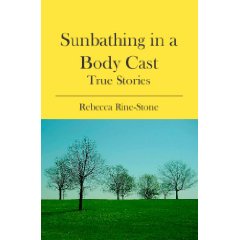 Sunbathing in a Body Cast: True Stories by Rebecca Rine-Stone. I read the whole book in one day. Seriously, this book is soo good. My favorite thing to read is short personal essays, and Rebecca is a master crafter of language and is really able to take us on a journey through her mind and experiences. One minute, I would be laughing out loud and giggling uncontrollably, and the next, I would be weeping and sharing in her pain. Granted, Rebecca is one of my best friends in the whole world, but as I told Fuzzy last night, It is good, and not just cause it is Rebecca--which then made me think--It is good, BECAUSE it is Rebecca. The way she thinks, the way she shares her life so openly and joyfully. I highly recommend this book.
To celebrate, we will be having a book release party on Sunday March 22nd at the Book Cellar! Rebecca will be reading selections from the book and copies will be available for sale. We would love it if you would join us! Details below:
Please join us at a Book Release Party
for Rebecca Rine-Stone's new book
Sunbathing in a Body Cast: True Stories!

Sunday, March 22nd
4:00-5:30 pm
at The Book Cellar in Lincoln Square
4736-38 N. Lincoln Avenue
Chicago, IL 60625
Rebecca will be reading selections from Sunbathing in a Body Cast, and copies will be available for purchase. Light refreshments will be served.
Book Cellar Event Info Here
Please RSVP to ericareid (at) gmail.com.

Sunbathing in a Body Cast is an autobiographical journey through the quirky, frenetic mind of Rebecca Rine-Stone. While weaving memories with present life, Rine-Stone creates essays that are self-deprecatingly humorous yet always deeply personal and honest. She delves into and magnifies reflections on everyday life as well as more serious topics such as sickness and mortality and she tackles such obstacles without self-pity, but rather with outward optimism, hope and sassy sarcasm.
Subjects range from going through the Dairy Queen drive-thru in a body cast in the back of a station wagon to her ongoing aversion to growing up.
Having come to no solid conclusions about life except that we're all in this mess together, Rine-Stone proves it's easier and better to be nothing more than yourself and nothing less than yourself.
www.rebeccarine-stone.com
Available at www.amazon.com
http://www.bookcellarinc.com/

If you would like an invitation via email or to RSVP, please leave a comment below.
I hope to see you there!